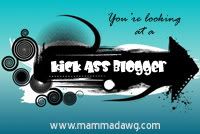 That's right peeps, Kaza kicks some ass.
Followthatdog
of
From Stage Dives to Station Wagons
says so, and that means it must be so!
I am deeply honored to be recognized for kicking ass, especially by such a dear bloggy friend. It was difficult to choose from my loooong blogroll list, but according to the rules I need to share the love, so I now pass the torch to the following bloggers:
1. Catnip (aka @AnnetteK), of
Catnip & Coffee
, my "fairy blogmother," who is such a generous soul and is kicking ass on so many levels.
2. Heather of
Mindless Junque
, who not only kicks ass as a blog friend but has the most kick ass hair of any blogger out there, holla!
3. Tiffany of
The R Family Diaries
, who writes her heart and mind and is my California soul sister, yo.
4. IrishKat of
Sassy Irish Lassie
, a kick ass chick and awesome bloggy friend whose take on life always makes me laugh.
5. Megan of
Velveteen Mind
, a kick ass mama whom I admire for her raw honesty and take-no-prisoners, call-it-like-I-see-it authenticity, which is coupled with a passion for encouraging newcomers and welcoming us all to the blogosphere.
To see the full list of kick ass blogs and tag your own favorites, hop on over to
MammaDawg's award page
. (And go visit
MammaDawg's blog
while you're at it!) Share the love people!